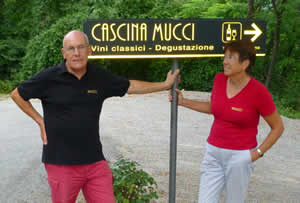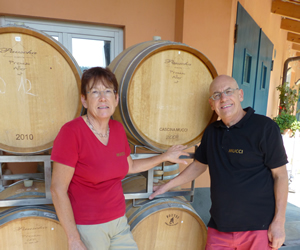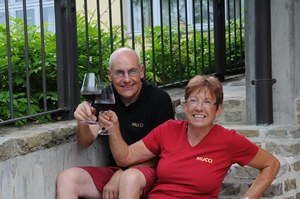 CASCINA MUCCI is a small winery located in the township of Roddino, situated 450 meters above sea level, in the hills of the Langhe near Alba. The Azienda CASCINA MUCCI started in 2000 and has currently about 1.5 hectares of vines from which it produces approximately 8000 bottles per year.
The owners, Alexander Bion and his wife Charlotte Ineichen, have always been enthusiastic about wine and wine making, so in 2000 they immigrated from Switzerland to Roddino to take up their passion. They built a new cellar with modern equipment und planted new vineyards using only estate grown grapes from the following varieties: Chardonnay, Dolcetto, Barbera, Nebbiolo and
Albarossa.
Their objective is to offer high quality wines by working precisely and passionatly throughout the year in the vineyards. Low yield and a scrupulous selection of the grapes during harvest is the basis of their wines. Also gently destemming, crushing and pressing allows them to bring the grapes full quality into the bottle.

Vintages

2011 a very early year, but hail in july slowed down the ripening.Summary: quality excellent, quantity normal (Barbera) up to low
(Nebbiolo)

2012 A lot of snow in February and March. Early spring, early buding. The summer was very dry, missing of water. At the beginning of
autumn it was quite cold and wet, ripening was slowed down.
Harvest of Chardonnay: 11.09./12.09.2012
Harvest of red wines: in the period from 21.09. to 21.10.2012
reduced quantity, very good quality

2013 Cool spring with much rain. Summer was rather good and warm. But it was not enough to catch up the delay of spring. Very late harvest. For Chardonnay, Dolcetto and Nebbiolo good to very good results. The Barbera has suffered most: low yield in favor of quality.

2014 Early bud burst in spring, followed by rather cool weather with plenty of rain. Hailstorm in June caused little damage and a lot of work. The beautiful late autumn came too late for the early red varieties: We have harvested no Dolcetto and a very small quantity of Barbera. The quality of the Chardonnay, the Nebbiolo and the Albarossa is good to very good, with reduced yields.

2015 Very early sprouting, then rain in early June followed by a long dry period. Thanks to the good water resources, the vines came not in stress, actually a perfect year. Unfortunately we had twice hail, the second time in early August. Therefore very reduced production of
red grape varieties.

2016 Winter with mild temperatures and low rainfall, in March the temperatures dropped and there was plenty of rain. So we had good reserves of water but a delay in the vegetative cycle. Very good weather end of summer and autumn without hale. The grapes were healthy, had excellent aromas and a good sugar content. Harvest form 12.9.16 (Sauvignon Blanc) until 22.10.16.
Well-ballanced wines with very good structure. In a nutshell: an year with optimal quantity and excellent quality.