Clic on a label to learn more about this wine:
(sorry, most of them are in German)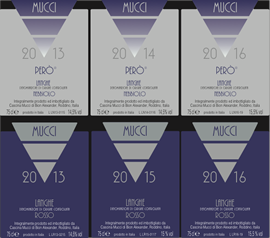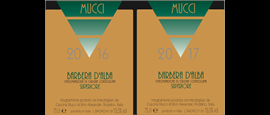 We use exclusively grapes grown by ourselves and produce the following wines:

Langhe DOC Chardonnay
Langhe DOC Bianco (Sauvignon Blanc and Chardonnay)
Barbera d'Alba DOC superiore MEROS
Barbera d'Alba DOC superiore ORO
Langhe DOC Nebbiolo
Langhe DOC Rosso (Nebbiolo and Barbera)
Vino Rosso AROSSA

Vino aromatizzato: (base wine is Barbera and Nebbiolo in equal parts from Cascina Mucci.)
Grappa (distilled from our pomace)

The above two products have been produced for us by the Distillery BECCARIS.

We are convinced that the wine is made in the vineyard, for this reason, each vintage gives another wine with its own character. In the cellar we combine traditional and modern techniques reducing the interventions in the process of vinification to the minimum. The aging of the red wines takes place in French oak barrels, a traditional and natural method refining the wine by slow oxygen uptake. We encourage you to decant our wines .



. brochure of our wines



. flowchart of red wine vinifikation